For years, Pedro Roque has been Portugal's punk photographer with his Eyes Of Madness project, a frontman for punk or grind projects such as Systemik Viølence and Besta, and a frequent presence as a dj under many an alias. This year, the Barreiro based photographer has released his first solo work as Cavernancia, a new project where he explores the world of ambient and drone through field recordings and noise.
"I always had a desire of doing something by myself, but never really knew whether or not I could pull it off," he explains, "I've always been the vocalist, which everybody says is the easiest role, and it's very performative and not that technical." Moreover, studio work didn't appeal that much to him, as "you always have people around you and there is the pressure of doing things on the time you have." Thus, when he left Systemik Viølence, a decision was made, to "either do something outside of what I already did in punk, grind, and metal, and with someone I trust wholeheartedly, or just do something by myself. Eventually, I got myself a better computer and decided to use it to see what I could do. A friend of mine, Jerome, got me into Ableton, and from then on it was about learning to use it and see how far I could go." Less than a year later, on September 3, the first Cavernancia release saw the light of day, one which reflects the project's recent origins, "I haven't done this for a year yet. I started learning around November, created my first piece in December, which I won't release as it was too direct, and decided to start from scratch and do something from what I learned the first time around." He was getting his own language and recorded «em ciano», which you can hear below, between February and March of 2021. If it all sounds rather quick, the man himself was surprised with "how quickly the process was. I just started adding layers to the foundation I had. Each song has a base that goes from start to finish and from which I deconstruct and add things. Since I'm quite obsessive, the result was that I would spend four or five consecutive hours working on a song after work, then listen to it on the headphones the day after, and repeat until it was ready."
We asked if the foundation he mentioned was comprised of field recordings, and indeed "almost everything you hear comes from field recordings, I only use around 10% of virtual instruments, everything else is comprised of modulated field recordings." Not that this was a premeditated choice, but "more of an accident, as these things tend to be. I started experimenting with the thousands of virtual instrumentation possibilities in Ableton – and I say experiment because I'm not a musician, just someone who has listened to a lot of music for a very long time – and I saw that it was taking me to a very straightforward direction. So I started recording things around me and manipulating what I got, that gave me a sense of direction in what I was doing, I understood that I work better by deconstructing reality, by taking what already exists and transforming it through my own language." This was not the first idea for Cavernancia, as "initially, I wanted to do a fucked up noise project, but it'd be too literal. I've always enjoyed music to travel to and I think this way allows me to find that balance and create a journey, not one of those flower power psychedelic ones, but a hellish one."
The learning process does not exhaust itself in at home experimentations, "preparing the show, I learned techniques that I am already putting into practice for other things I'm writing. I'm doing it in a more organic way than in «em ciano», which was a lot of cutting, pasting, adding and removing things, whereas what I'm doing now has a live feel to it. That's something I wanted from the start, but just didn't know how to do it." This permanent state of change is in fact part of the project's identity and it comes reflected in the approach to the live format, "I will never repeat that first set, there will always be changes."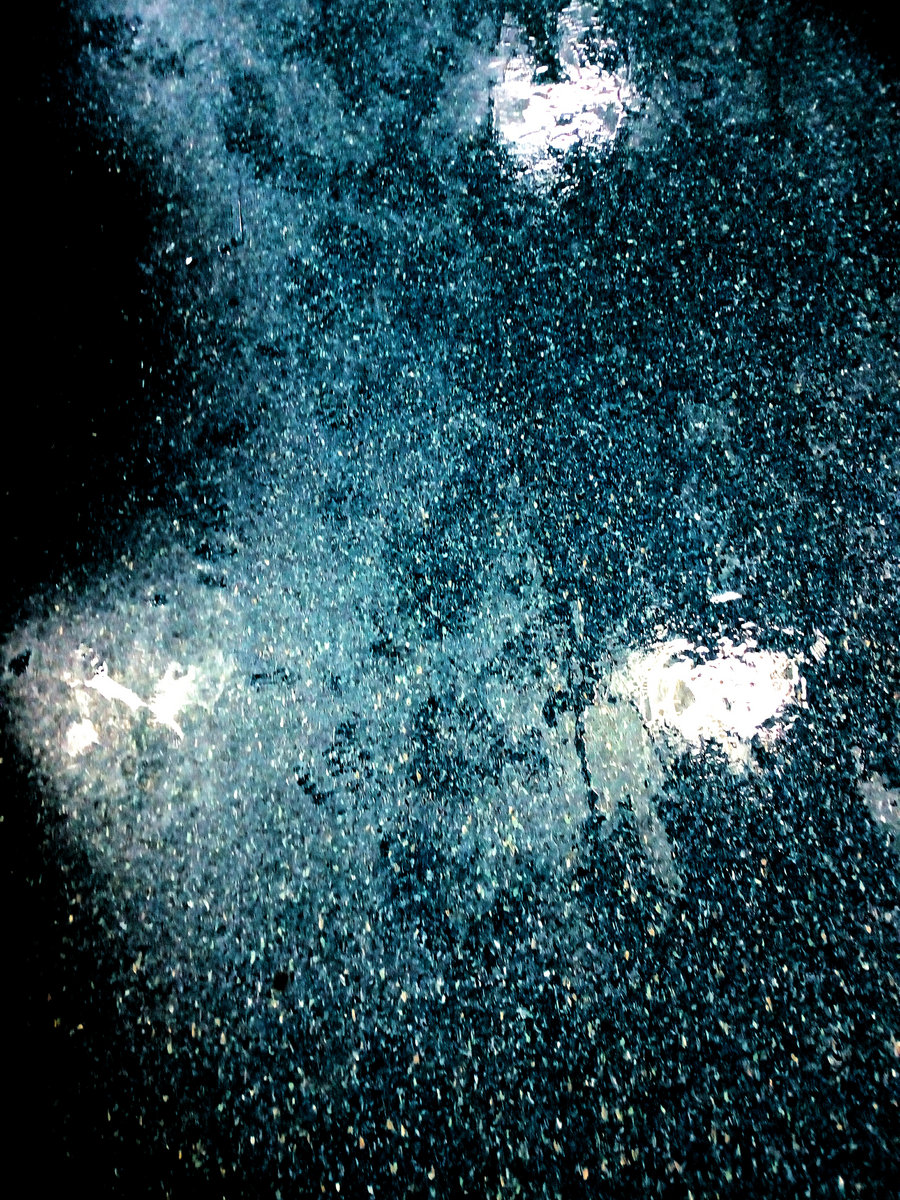 Looking at the album's artwork above and knowing it was photographed by him, it strikes one as rather contrasting with the Eyes Of Madness aesthetic, whose pictures are always in black & white, "it was my intention to keep things separated. There was still a thought about asking a friend to photograph, but I decided that this time I'd do everything myself. It made sense to use colour, also because it keeps things clear: on the one hand you have photographic vision, on the other you have my vision for Cavernancia." Of course, the album title itself means "in cyan," a name that he explains, stems from "working class life. When I leave home to commute to work, it's still night and on the boat to Lisbon I get that cyan like tone on the sky. Since most of the field recordings in the album were done in my daily commute and in public transports, I wanted to create a sort of poetic analogy, where I sort of recreate through music my feelings as I go to my day job – in that sense it's quite literal." As for the cover itself, "it's a detail from the floor of the boat I take to work, taken with my telephone. This was all very lo-fi, those were the tools I had around me. In that sense, my years in the punk scene are mirrored here and no matter how experimental and out there the music I make is, that facet will always be there because it's always been my school."
Recently, Cavernancia's first live performance took place in Barreiro, which required a translation of the cassette and digital sound into a live setting, since for him, the album is "a composition that is made for that medium. Already as a listener, it always bothers me when a band within this more experimental sounds just plays a copy of their record live. That was a decision I had made prior to starting the project, that if I ever did something like this, I'd use the same sound banks and keep the themes of the record, but would transform the music so that it had an appropriate impact." We asked Pedro whether this experience shed new light on how to approach his own studio creations, and indeed he says that "I would have done things differently, but I'm not a sound engineer and I decided to do everything myself. I think next time I might have someone else handling the mixing, as I had a very good experience with the sound technician in the concert, he really got the texture I was going for. He really got me a monstrous sound, I started laughing when I first heard it." To be clear, this was not just by plugging a computer into a sound system, as Pedro explains, "I'm at a stage where I have started to use real instruments. Recently I purchased a mini modulator and when I plugged it into the venue's sound system I almost blew it up, this thing makes a shitload of noise and it's only the start."
Our conversation moves into how the actual translation of the sound into the live setting worked, "live, I have everything mapped, then blast sounds through the controller, most of which I modulate live depending on the space, as what I rehearse at home does not necessarily translate to a giant warehouse." At the end, he opted for a 45 minute long piece "with no stoppages, its first part included elements from both «a noite» and «morre» and I ended up with a considerably more layered «em ciano»." As for the lack of stops between songs, he explains that "I want to avoid them in my shows, partly because I really don't want those annoying mid-concert moments of awkward clapping. There is one small break as the noisy ending of «noite» gives way to a growing drone, but people clearly got what was going on and went with it."
As the pictures above and below by Vera Marmelo illustrate, this was quite the setting for a debut performance, "it was the dream concert for a first time, all the conditions were just perfect. The people who organized it, from OUT.RA, are the ones that book the experimental music festival OUT.FEST, which for me is the best festival in Portugal. They have a habit that I love of trying to book shows in alternative spaces – I think they've already booked stuff in over 60 spaces just in Barreiro." To give an idea of what this amount of venues represents on the scale of the city, Barreiro has around 70.000 inhabitants (Portuguese readers can read more about this topic here). Pedro further explains that "this practice of organising shows in different spaces is that it forces people, even those who live here, of discovering the town, instead of just going through the pre-formatted set of everyday venues. That's their modus operandi and they've been doing it for fifteen years."
When the idea to perform live came up, it was obvious who to call, "I showed them my stuff, talked to Vítor Lopes and told him I wanted to perform live. He immediately asked me whether I wanted a regular venue or something weirder, and I immediately chose the second. It was formerly a indoor football field, you even have a last square of synthetic grass from those days." It was also, as you can see above, a rather tall place, which meant that "the reverb of the space scared me at first, but we went for it and turned out well. I think the set-up of the speakers helped, with two of them behind me and two behind the audience, alongside the subs. That allowed me to play with this stereo sensation by controlling where sound was coming from and knowing that I created a sound dynamics that would float through the space."
In terms of what differed between versions, he explains that "the live version has a lot more power and amplification than the tape, it's not as lo-fi and had a different texture. That said, the tape itself has more low-end than the digital, which was entirely accidental but came out quite well with those frequencies being enhanced." The tape, which you can see below, came out through Nariz Entupido, "I've known them for a long time, from photographing shows they put on, so everything went fast after sending them the music. I had it all ready by the end of March." The cassette release was a fundamental requirement for the project's validity, as Cavernancia's philosophy is to "only release something that comes in physical form," Pedro explains, "as I highly value the physical object, already as a listener."
«em ciano» was release on September 3 by Nariz Entupido on cassette and digital format. It can be found here in digital format or ordered in cassette form through geral@narizentupido.com. You can follow Cavernancia through their facebook or bandcamp.