For our fifth and final piece covering the first batch of Roadburn 2022 announcements, we were going to cover exclusively those who have not played there before. However, we made a mistake on the fourth part (here), and did not include the great Nothing on our returning names, even if we had previously mentioned their collaboration with Full of Hell on the second part (here). Moreover, we also forgot to mention that Alcest is playing «Écailles de Lune» in its entirety at the festival, a confirmation you can read more about at this location. You can further find the pieces regarding GGGOLDDD and the curatorship of Milena Eva and Thomas Sciarone here and the one on the black metal confirmations here.
Back in 2014, Nothing took to the stage at Roadburn on the back of the highly acclaimed «Guilty Of Everything». Since then, they released «Tired Of Tomorrow», «Dance On The Blacktop», and «The Great Dismal», the latter of which on October 2020, not to mention a considerable string of non full-length releases. As the press release states, "in the time since, the band has become more expressive, letting other emotions bleed into their music, asserting them as leaders in the modern shoegaze scene." So it will be, that not only will we have the Full of Nothing collaboration, for which we are admittedly very excited, but also Nothing in all their solo glory, for which coincidentally we are also very excited. Read more about Nothing's confirmation here.
The first fresh face we are discussing today is that of Blak Saagan, the alias under which Samuele Gottardello has been creating "cosmic kosmiche compositions that boil in tension, suspense and wonder" since 2017's «A Personal Voyage». The band's last album is «Se Ci Fosse La Luce Sarebbe Bellissimo» and it'll be played in its entirety at the festival. Its story dates back to 1978, when the Italian left brigades Brigate Rosse "kidnapped then-prime minister Aldo Moro, slaughtering five of his bodyguards and eventually Moro himself. The goal was to get Italy out of NATO, and it was an event that in no small part would define Italian political instability of the Cold War era." Fans of krautrock and psychedelic will surely have a feast with its rendition and can read more on the announcement here.
Formed in 2017, doom rock quintet Green Lung have just released their second full-length, «Black Harvest», through Svart Records, following on 2019's «Woodland Rites», the «Free the Witch» EP and «Green Man Rising» demo. As the announcement states, "their soaring heavy rock and folk horror-inspired lyrics make Green Lung a natural fit for Roadburn." Come April, you'll be able to witness «Black Harvest» live in its entirety. Find the full announcement here.
Then we get to Lili Refrain, who hadn't released music since 2013's «Kawax» until she came out with the beautiful «ULU» EP last year. The announcement explains that "combining electric guitar, vocals, percussion, synths and loops, she crafts a sonic netherworld, to which we're all invited," with Lili herself adding, "in the light of these past few years of love and devotion to sound's nomadism, only interrupted by this last dark year, it comes with immense and extreme joy the opportunity to participate to one of best festivals on the planet, where I'll be honored to present my new album for the very first time. Also, I'll bring something unique with me only for this set, something rare and ancestral. I just can't wait to share all of this with all Roadburners out there." We can't wait either and you can find the full announcement here.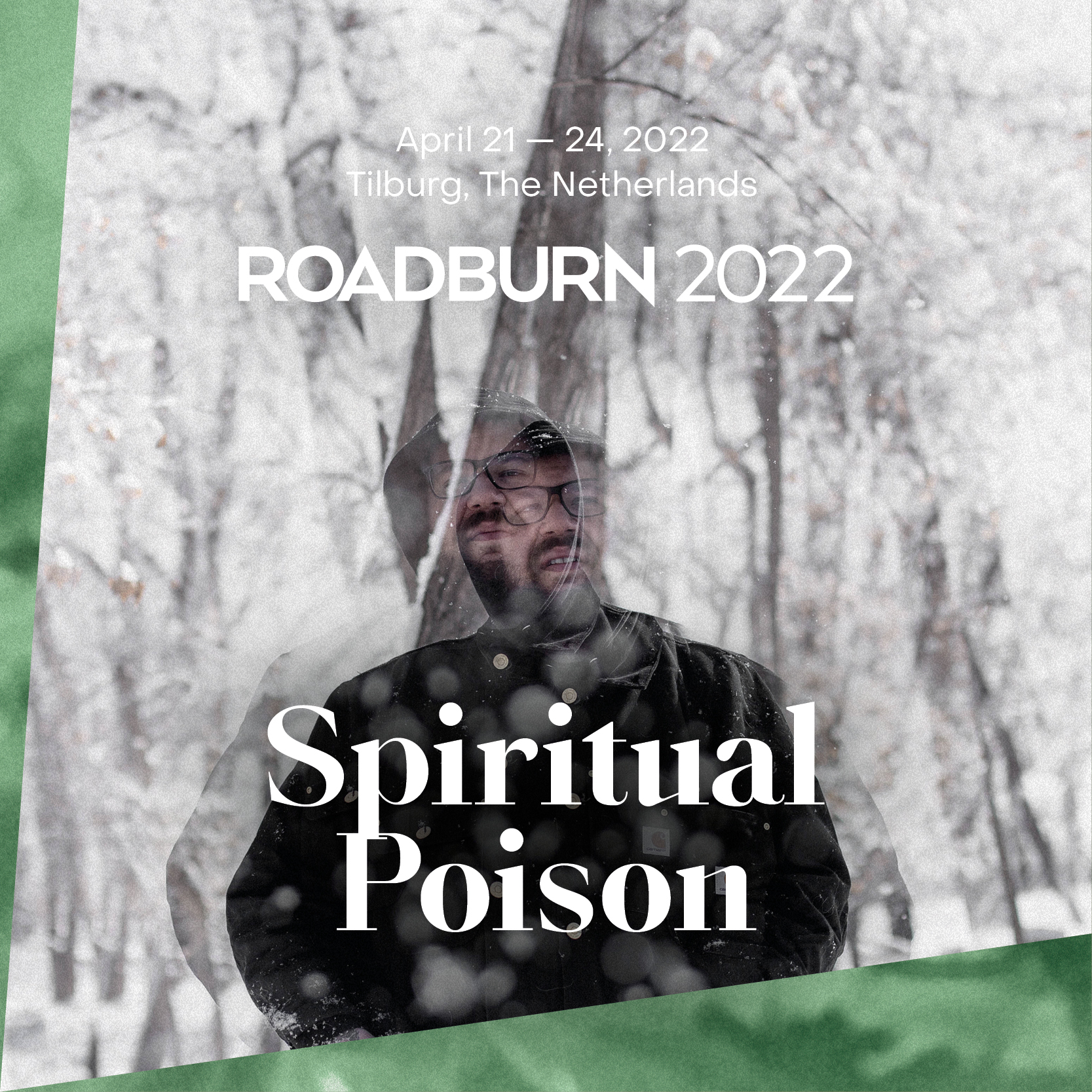 Full disclaimer: we are immense fans of Primitive Man and Ethan McCarthy's work as Many Blessings. Hence, to note that not only there will be a Primitive Man set, an appearance by the man himself in the Full of Hell rendition of «Garden of Burning Apparitions», but also a noise set by McCarthy's new outlet Spiritual Poison left us extremely thrilled. The outlet arose when McCarthy "identified a creative stream that was somewhat distinctive from the discordant harsh noise of Many Blessings, and that didn't flow into his work with Primitive Man." Regarding what to expect of Spiritual Poison, "the DIY ethic remains, as does the bleak soundscapes that seem wired into his DNA, only this time they're more focussed. With themes that explore the dichotomy between city living and mankind's relationship with nature, overlaid with the juxtaposition of the digital and spiritual worlds," whilst the artist does not shy away "from channeling his experiences of being a person of colour living in modern day America, the violence, and the end-times narratives that permeate daily life." Yeah, we are looking forward to this one (more on the announcement here).
Earlier this year, Rocket Recordings released the self-titled debut of The Holy Family to acclaim within the acid, psychedelic scene or, as JJ Koczan suggestively puts it, "the results were nothing less than an opportunity for anyone who took them on to turn themselves into multi-colored fireworks, pulling together a worldly sound." On paper, sounds like the quintessential out of this world Roadburn experience, and you can read more about it here.
Okay, we admit, Trialogos is only a fresh face in a very technical sense. A bit like Spiritual Poison in reverse, as while McCarthy had previously performed with his band, Trialogos' Conny Ochs has been a recurring sol artist in the festival. Moreover, the band did play Roadburn Redux, but that doesn't really count as the full Roadburn festival. As Conny himself explains, "Trialogos was born out of the need for liberation, and it feels as Roadburn is the perfect place to exercise this need and further continue the road we have taken." Their subtly grandiose debut album, «Stroh Zu Gold», is "inspired by the late Tony Conrad's concept of maximalism in minimal music," and we'll finally be able to witness it in person come April. You can find the full announcement here.
Roadburn 2022 is set to take place in Tilburg between April 21 and 24. You can find tickets at this location.
---
If you would like to support our work here in Nether, you can do so by becoming a patron here.